Dillinger Escapes Again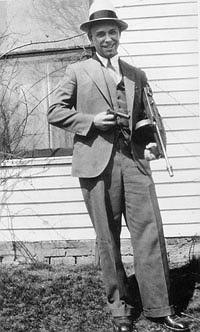 The arraignment for the O'Malley killing took place on February 9, 1934. Louis Piquett, a Chicago attorney who specialized in representing underworld characters, acted as his lawyer. After some legal maneuvering, Judge William J. Murray, set the trial for March 3. During the succeeding weeks there was little concern about a jailbreak, for along with the escape-proof reputation of the county jail and the fifty guards employed there, the sheriff had added armed citizens and National Guardsmen. When Dillinger bluffed his way out with the wooden pistol on March 3, it left officials stunned and the public captivated.
By March 4, Dillinger, having rejoined Billie Frechette, arrived in St. Paul to add the final members of his new gang. This was to include John Hamilton and old prison friend Homer Van Meter (paroled from the Indiana penitentiary nine days after Dillinger in May 1933). Van Meter brought in fellow criminals, Eddie Green and his partner Tommy Carroll. To this group, was added underworld character Lester Gillis, better known as Baby Face Nelson, known for his reputation as a trigger-happy killer.
On March 6, the gangsters robbed The Security National Bank and Trust in Sioux Falls, South Dakota. As Dillinger and Van Meter collected $49,000 in cash and bonds from the vault, alarm blaring, a large crowd of onlookers gathered in the street. Nelson, spying off-duty policeman Hale Keith peering through the window, fired through the glass, wounding the man. To make their getaway, they took hostages to ride the running boards of their Packard, acting as a human shield. Once they arrived at the main highway they threw nails into the road in order to slow down any pursuing police. When the Packard overheated due to a police bullet hole in the radiator, the gang stole another car just as the police closed in. This led to a running gun battle, which nevertheless they were able to escape from, heading back to their Twin Cities hideout.
At about the same time, a panic arose in Lima, Ohio, at the trial of Pierpont and Makley, as word got out that Dillinger might try to break them out. The March 13th robbery of The First National Bank in Mason City, Iowa, netted only $52,000 of an anticipated $240,000. Both Dillinger and Hamilton received shoulder wounds and a bystander was wounded when fired on by Nelson. The gang once again escaped behind a shield of hostages, all of whom were released after about 45 minutes. Back in Minneapolis, both Dillinger and Hamilton were treated for their wounds. John's plans to use his share of the $240,000 to leave the country had to be abandoned.